Nov
1
Having the IMIV in the car makes driving around much more fun but up until recently I had my iPhone and prior to that my iPod Classic flapping about on the passenger seat. It worked but wasn't particularly elegant and of course the moment I had a passenger in the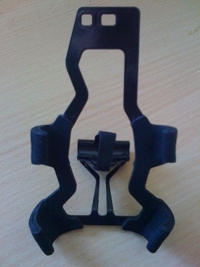 car there was a problem. This week I finally broke and decided to sort out the problem. To be honest I was looking for something cheap and functional. A quick search lead me to the JO BLACK from x castro design. This is a rather simple frame with what I can only describe as a bulldog clip on the back. The JO works rather simply. You squeeze the clip to open it and slip it onto one of your car air vents. Your iPod or iPhone or other device slips into it, gently held by the neoprene arms. The arms can be bent to allow more or less grip, so, although it seems to be an iPhone or iPod holder it isn't just that, it can safely hold pretty much any handheld device – within reason of course. The fact that it has an open base means I can have the IMIV cable connected with no issues.
The JO is available with the neoprene in one of 7 colours, the base frame is always black but the colour range is varied enough for most tastes.
If you're looking for a passive holder for your phone or music player then for the money the JO series suit. One thing I did notice when looking at the pricing on their site compared to Amazon
was that although the x castro site and Amazon prices matched (after shipping), there seemed to be no way to select the free shipping for the UK. The 3 options in the dropdown box all added more to the price.

Tagged with: hardware • IMIV • iphone • Music
November 1, 2008 14:37
Sep
21
I recently purchased a copy of Jaikoz to help process some of my bulging music collection. Back in the day when most of this got ripped grabbing details from the internet was pretty much unknown. As time
progressed things got easier but these old rips never really got their info updated. They may have had an artist and album folder, but they didn't have much in the way of tags. Jaikoz, which runs under Windows, OS X and Linux, was to be my tool of choice in repairing them all. The process is pretty simple. Select the folder containing music to be tagged and then click the toolbar button of a car. Then all you need to do is find somehting else to do for a few hours. When you come back most, if not all, of your untagged music is tagged.
Read more…

Tagged with: Apple • Music • software
September 21, 2008 13:11
Current Electricity Use (15min)
Links
Tags
1-Wire
android
api
Apple
arduino
currentcost
DDAR
development
DVD
FIC
freerunner
G1
google
Google Phone
gphone
gprs
GPS
hardware
image
image builds
inspiration
iphone
jailbreak
kiosk
linux
Mac
monitoring
Music
neo 1973
Nokia
openmoko
opensource
OSX
Pachube
personal
qtopia
rhubarb
rikki
Rio
slimp3
slimserver
software
tracking
Trolltech
u-boot
Twitpic
Graphy Stuff
Nasty Spam Monkeys