Nov
1
Having the IMIV in the car makes driving around much more fun but up until recently I had my iPhone and prior to that my iPod Classic flapping about on the passenger seat. It worked but wasn't particularly elegant and of course the moment I had a passenger in the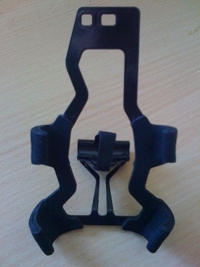 car there was a problem. This week I finally broke and decided to sort out the problem. To be honest I was looking for something cheap and functional. A quick search lead me to the JO BLACK from x castro design. This is a rather simple frame with what I can only describe as a bulldog clip on the back. The JO works rather simply. You squeeze the clip to open it and slip it onto one of your car air vents. Your iPod or iPhone or other device slips into it, gently held by the neoprene arms. The arms can be bent to allow more or less grip, so, although it seems to be an iPhone or iPod holder it isn't just that, it can safely hold pretty much any handheld device – within reason of course. The fact that it has an open base means I can have the IMIV cable connected with no issues.
The JO is available with the neoprene in one of 7 colours, the base frame is always black but the colour range is varied enough for most tastes.
If you're looking for a passive holder for your phone or music player then for the money the JO series suit. One thing I did notice when looking at the pricing on their site compared to Amazon
was that although the x castro site and Amazon prices matched (after shipping), there seemed to be no way to select the free shipping for the UK. The 3 options in the dropdown box all added more to the price.

Tagged with: hardware • IMIV • iphone • Music
November 1, 2008 14:37
Oct
11
In the UK Tesco are selling a sub £20 DVD player – the Tecknika DVD 1033. It looks cheap, it looks nasty but it works very well indeed and what's more you can make it region free. I really don't know how they build these things so cheaply and I do worry that small children might have been involved. Anyway, here's how you make your Tecknika DVD 1033 region free.
Read more…

Tagged with: DVD • Region Hack
October 11, 2008 11:28
Sep
8
Today we had a delivery of the ecobutton at work and I got to play with it a little.
This USB device plugs into your PC and magically ecourages you to save electricity by putting said PC to sleep if you leave your desk (if you remember to push it). That's the theory of it anyway. The trouble is I have a big problem with it. It's not just that this device is made of plastic, probably the cheap nasty kind that kills you if you look at it in the wrong way. It's not that it's made in China, which means it either got to me via a cargo ship or an aeroplane spewing CO2 as it travelled thousands of miles. It's not that it uses electricity while it's sitting there doing nothing. It's not even that it looks like it cost 30p ($0.52 ish) to make but sells for about £7 ($12.35 ish). The big problem with this device is the implementation. You know what it does? When you press the ecobutton it does this:
Read more…

Tagged with: hardware
September 8, 2008 17:02
Jun
17
Over the weekend I decided to take a little look at one of the latest incarnations of OSX to see what all the fuss was about. One of the real problems with OSX is that under normal circumstances you have to shell out at least 399 GBP before you even get to try it out. If you don't like it or can't get on with it you're out nearly 400 big ones and who wants to risk that?
There are of course ways around this and I took the plunge with a Kalyway 10.5.2 iso. My
laptop is an Acer Aspire 3692 WLMI which originally came with an 80GB hard drive which I have already upgraded to a 160GB drive. Since I was only going to be testing this out I wasn't about to erase my current linux install. I dusted off the the old 80GB drive and swapped it out with the 160GB drive and kicked off the install. I actually did the install a couple of times to get used to how Mac people do stuff.
Read more…

Tagged with: hardware • linux • Mac • OSX • software
June 17, 2008 20:06
Jun
5
"The latest update I have from the factory indicates that mass Production (that means running the SMT line without stopping to check stuff every two seconds) has been CLEARED TO START."

WooHoo!!

Tagged with: freerunner • hardware • openmoko
June 5, 2008 17:16
« go back
—
keep looking »
Current Electricity Use (15min)
Links
Tags
1-Wire
android
api
Apple
arduino
currentcost
DDAR
development
DVD
FIC
freerunner
G1
google
Google Phone
gphone
gprs
GPS
hardware
image
image builds
inspiration
iphone
jailbreak
kiosk
linux
Mac
monitoring
Music
neo 1973
Nokia
openmoko
opensource
OSX
Pachube
personal
qtopia
rhubarb
rikki
Rio
slimp3
slimserver
software
tracking
Trolltech
u-boot
Twitpic
Graphy Stuff
Nasty Spam Monkeys