Oct
20
Over the last couple of days I've been trying out a series of applications, the two are just a bit of fun really although I suppose they could be a little useful. Earlier this week I had been messing about with SuperKaramba which I eventually removed after it decided it was going to delete some files after I'd modified them, fixing a couple of bugs. The concept of SuperKaramba is fairly sound, I just worry about why I suddenly lost an entire plugin folder for it. Maybe it didn't like my modifications, I'll never know. I also noticed that my cpu usage never went below 30% – It had to go, but it was at least interesting to have a look at and it did introduce me to a bit of Python, something I've been avoiding looking at for some time now. I haven't got anything against Python, it's just yet another language I'm going to have to learn, along with Ruby – but I have no idea what the 'on Rails' bit is about, I'm assuming it's similar to LAMP, although I prefer it in its xampp form.
Gltail is a little Ruby application that allows you to look at your logs in 3d. I know it's not very 'linux shell' but it is fun to see. You also get a good idea of which files, images etc are attracting the most attention. A stream of spheres spits out from each client or server.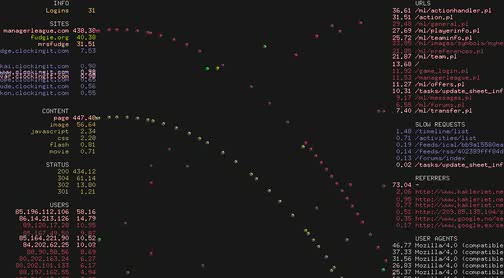 The sphere's get bigger and smaller depending on a number of factors, but generally the amount of traffic . There are a number of plugins available for it to allow the monitoring of things like apache logs, or mysql queries. The thing I liked most was that it connects to remote servers over ssh and can use keys. There are a couple of flash movies on the gltail page, one showing when the author was 'slashdotted'. Gltail is a Ruby application, so it's another opportunity for learning what I'm going to start calling YAFL – Yet Another F&%$ing Language. I enjoyed throwing a few logs at it to see how well it managed, but could never really compare to the author's 'slashdotting'.

Tagged with: opensource • software
October 20, 2007 10:46
Comments
Current Electricity Use (15min)
Links
Tags
1-Wire
android
api
Apple
arduino
currentcost
DDAR
development
DVD
FIC
freerunner
G1
google
Google Phone
gphone
gprs
GPS
hardware
image
image builds
inspiration
iphone
jailbreak
kiosk
linux
Mac
monitoring
Music
neo 1973
Nokia
openmoko
opensource
OSX
Pachube
personal
qtopia
rhubarb
rikki
Rio
slimp3
slimserver
software
tracking
Trolltech
u-boot
Twitpic
Graphy Stuff
Nasty Spam Monkeys